0 Extremadura Diaspora around the world
Our in-person family gatherings
Ireland's President Higgins family message
Our TEDx talk about family gatherings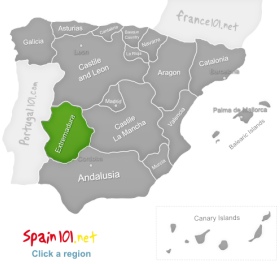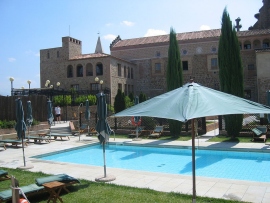 Parador Plasencia Garten und Pool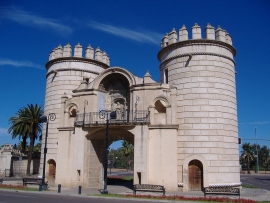 Puerta Palmas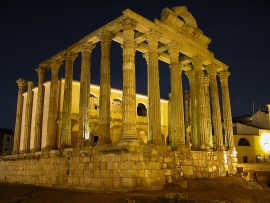 Templo de Diana Mérida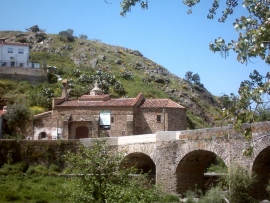 Ermita de San Lázaro, Plasencia, Spain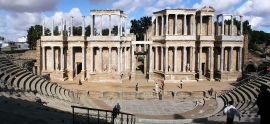 Merida Roman Theatre1 By Ikiwaner
[GFDL or CC-BY-SA-3.0], via Wikimedia Commons
Extremadura
Extremadura is one of the most unspoilt regions of Spain, and yet it is a treasure trove of Roman ruins, temples, Spanish architecture, and culture. It also is the mecca for birdwatchers in Spain. Each country has a region in which bird-watching is fantastic – and in Spain it's Extremadura. It is a region that is not very populated, and in some areas you will only see a farm house here and there. It is a great getaway for people who do love culture, but who don't enjoy the hustle and bustle of big cities like Madrid. It's for people who love beautiful nature, but who don't want to have hoards of tourists around. And best of all: it's a region in which you can experience Spain's heart.
Jerte valley
If you happen to be in Extremadura in spring, then you simply have to visit the Jerte valley, because it is a magical sight to see the cherry trees in bloom. The flowering season only lasts for ten days, so you need to time your visit well. The Jerte Valley is, of course, also great during other seasons, but it is truly breath-taking when you see all the flowering cherry trees that cover the mountain side, and from afar it looks as if the mountain was covered in snow.
Mérida
Merida has plenty of Roman history for you. Extremadura is one of the regions that really has been influenced by the Romans a lot, and you can easily say that it's the Spanish region in which you can find most Roman architecture. There is a charge to enter many of the Roman buildings, but it's well worth it. Merida is a world heritage site, because it has the most substantial set of Roman ruins on the Iberian peninsula. Many of the ruins, like the Roman bath and the Roman amphitheatre are still in a very good shape. A very special thing happens during the summer months: the amphitheatre comes to life again and old classics like Antigone are performed in this special setting. If you happen to travel to Merida during those months, you should give it a try – even if you might not understand a word of what is being said. It is a very special experience to see the old plays being performed as they should be.
Merida is in general a city that is growing, and a lot has been done to make the city look more attractive, also in the parts that aren't filled with Roman ruins.
Cáceres
The old town of Cáceres is a UNESCO world heritage site, and is surrounded by sections of walls from different centuries (it's quite interesting to see the differences). It is a city with plenty of churches, some examples are the hermitage de la Paz, the church of Santiago, the Iglesia de San Francisco Javier, the church of Santa Maria (a cathedral from the 13th century), and the church and convent of San Pablo. There are also some stately homes and palaces that are great for visitors.
Trujillo
Trujillo is one of the places in Extremadura that are quite popular with tourists, there are well over 20 hotels (which is a lot for a town that size), and it's not a surprise. The medieval centre of the town is quite a drawing point, and the location of the town is also quite picturesque. There are some old churches, and other interesting villages in the surrounding area.
Parque Nacional de Monfragüe
The Parque Nacional de Monfragüe (a national park) is a designated biosphere, and a visit to the park is a breath-taking experience if you have even just a little bit of love for nature in your heart. It is possible to take your car through the park (lazy option), but there are also plenty of hiking paths, and a hike is highly recommended if you would like to be able to see the birds that call the park their home. There is also the option to camp in the park. You'll see plenty of vultures and other raptors if you keep your eyes open.
The Parque Nacional de Monfragüe is also the home to the annual event FIO – which is like a pilgrimage event for birdwatchers.
Guadelupe
Guadelupe is the capital of the Extremadura Geopark, an area of absolutely stunning landscapes and plenty of wildlife (you might even spot an Iberian lynx if you are very lucky). Guadelupe is the ideal base to explore the Geopark but also has a lot to offer, e.g. the Royal Monastery of Nuestra Senora de Guadelope, which has been declared a World Heritage site in 1993.