0 La Rioja Diaspora around the world
Our in-person family gatherings
Ireland's President Higgins family message
Our TEDx talk about family gatherings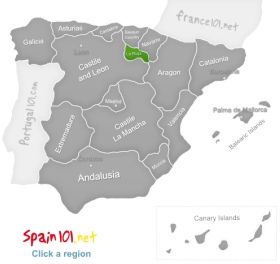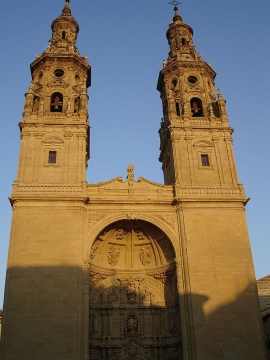 Catedral de la Redonda By comakut
[CC-BY-SA-2.0], via Wikimedia Commons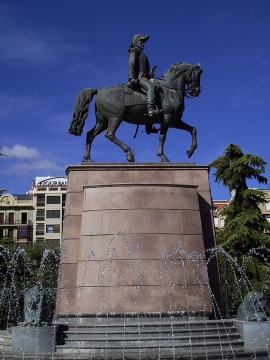 Statue of El Espartero in Logroño By jynus
[GFDL, CC-BY-SA-3.0 or CC-BY-2.5], via Wikimedia Commons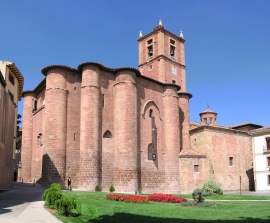 Ex-Benediktinerkloster Najera Spanien Dietmar Giljohann at the German language Wikipedia
[GFDL or CC-BY-SA-3.0], from Wikimedia Commons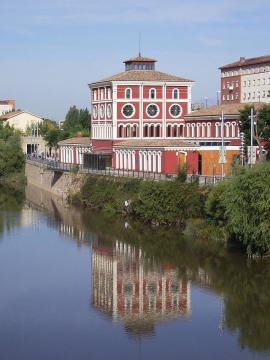 Science Museum (former Slaughterhouse) in Logroño By jynus
[GFDL, CC-BY-SA-3.0 or CC-BY-2.5], via Wikimedia Commons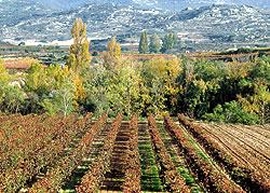 Viñedo rioja By Avant981
[GFDL, CC-BY-SA-3.0 or CC-BY-2.5
La Rioja
La Rioja is the place to go to if you love wine and either would like to learn more about its impact on the Spanish history, culture and heritage, or would simply like to enjoy all the region's wineries have to offer. There are more than 500 wineries in this Spanish regions, so many of the activities you can find there are somehow connected to the wineries. Many wineries also offer activities that don't directly have anything to do with wine, e.g. 4WD tours, horse-riding, hot air balloon tours and other things that are generally quite enjoyable. Of course, wine-tasting tours and tours of vineyards are also very popular, and there are some specialised providers that take in as many wineries as possible in a day. This, however, does not mean that there isn't other culture to discover: from Gothic and Romanesque churches to medieval city walls: it's all there for you.
Yuso monastery in San Millán de la Cogolla
The Yuso monastery in San Millán de la Cogolla is home to one of the most important libraries in Spain. Since 1997 the monastery is rated as a world heritage building. The church building itself is from the 16th century and visitors can take tours of the interior. The library in the monastery isn't impressive because of the number of documents (there are far bigger libraries to be found all over the world), but because of the age of the documents. They are from the 11th to the 15th century and are very valuable, so don't be surprised that you won't get to interact with them. A funny fact about the monastery is that it was only built because of some stubborn oxen who pulled a cart and at some stage just didn't want to go on any more. The cart contained the relics of San Millan, and the king thought that the stubborn oxen were a sign: the monastery surely had to be built right there on that spot!
Suso monastery in San Millán de la Cogolla
Not too far away, you can visit the Suso monastery in San Millán de la Cogolla. It is from the year 550, which makes it one of the oldest monasteries in Spain. In addition to that, this monastery is also the place where the first poems of the Castilian Spanish language were composed. Those poems were written by Gonzalo de Berceo, and his remains are still within the monastery up to this day. If you have an interest in how the Spanish language developed, then this monastery is one of the places you should visit.
Santo Domingo de la Calzada
Santo Domingo de la Calzadais a great town to visit because of its many historic buildings. A highlight is the Cathedral of Santo Domingo de la Calzada. It dates back to 1158, but has undergone quite a few changes during the 14th and 16th centuries. Santo Domingo de la Calzadais is also hme to some stately mansions, a lovely town hall, the concent of Las Bernardas, a pilgrim's hospital, the palace of Bishop Juan del Pino and the monastery of San Francisco.
Briones
Briones has a nice cathedral and has great views over the Sierra de la Demenda and the Sierra de Cantabria. It is a great stop for people who love wine because you can visit Dinastia Vivanco's wine museum to learn how wine is actually made – and you will not learn how wine is made today but how it has been made throughout history. The location next to the river Ebro also allows for a few nice strolls to just take in the atmosphere.
Haro
Haro is the wine capital of the region, and if a wine lover doesn't find a good wine in this city, then he's doing something wrong. From wine tours to fine dining: Haro has it all. But of course, Haro is also interesting because of its basilica, the many fascinating churches from different periods of time, and the lovely landscape.
Najera
Najera is an interesting place to visit because it is one a pilgrimage route and home to the monastery of Santa María La Real. The monastery was built because – according to legends – the ghost of the virgin herself appeared to the King Don Garcia. He then ordered that the monastery had to be built. Just opposite the monastery, there is an interesting museum: the Nájera History and Archaeological Museum, which is a great place to go to if you would like to learn more about the heritage of the region.